CredenceSoft was founded in the year 2018, with an aim to utilize the technology, knowledge, and experience gained over the years from a variety of sectors such as Banking, Insurance, Finance, Telco, Payment & Health.
To be a  leading platform for connecting Local Businesses to their Communities and creating wealth and prosperity across the Globe.
To enable Local Businesses to offer and sell their services to their Local Communities by providing access to an effective Digital Booking Platform that effortlessly allows customers to find them and use their services
We are a Community focused Organisation that believes in understanding the needs of our Local Community and Businesses to design, build and deliver relevant, cost-effective, and trustworthy Digital Solutions (SaaS) to build these we are customer-centric, avid learners, and quick to take action.
CredenceSoft Ltd. Auckland, NZ
Tech Team in Dhaka, Bangladesh
CredenceSoft Pvt. Ltd. Bhubaneswar, India
CredenceSoft Pvt. Ltd. Mumbai, India
It is built for technological solutions that business needs and to solve business owners' problems and also saves the customers time, since the business owner does not require to wait for the customer to go through all their inventory physically, the customer doesn't feel rushed or forced to buy anything that they don't feel is necessary, the customers can sit in the comfort of their homes/offices and order without the hassle of actually visiting the business venue.
The Man Who Started It All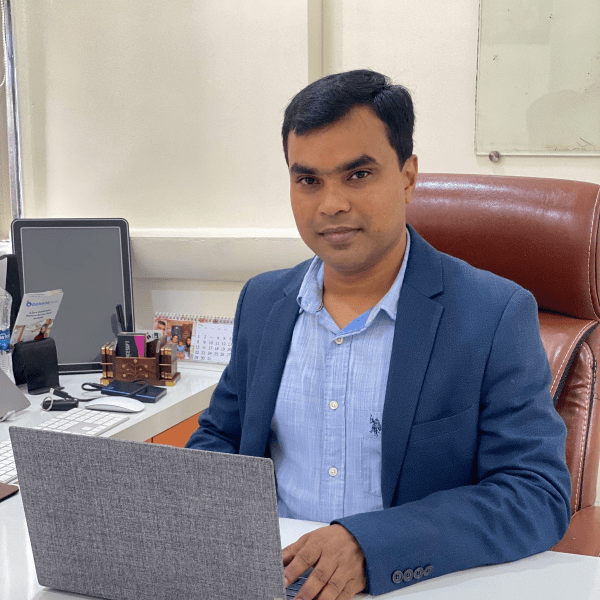 My mission is to bring the latest technology and design solutions readily accessible to most SME Businesses through our SaaS (Software as a Service) offerings. My goal is also to engage in Agile values to build meaningful, timely, and cost-effective solutions for our customers (the end-user).
Samaya Kumar Muduli
Mr. Samaya Kumar Muduli, the Founder and CEO of CredenceSoft Ltd. is a technocrat and his biggest strength revolves around building products & solutions. He carries an eye for detail, with the other focused on team collaboration and in-time delivery. He has vast experience in System Integration and Digital Transformation as well as being a Subject Matter Expert in Card Payments, Telecom, Utilities, Insurance, and Lending. He is an avid learner and is focused on expanding his domain knowledge both in IT and diversified Industry Segments and intends to explore AI (Artificial Intelligence), ML (Machine Learning), and Blockchain. He is the Product Owner of BookOne. So far, Credencesoft Ltd has over 1200 clients based in New Zealand and 400 plus clients in India. His action plan for 2022 is to expand his business in USA and Australia.
" We have one life to live the way we want, try new things, come out of our comfort zone and take up challenges. Things will be difficult to begin and get better in time. "
" Every great team requires learners without limitations, good mentors to share knowledge and experience along with problem solvers to bring out the best in every situation but most of all, a leader to hold this entire group of individual achievers together. "
Holiday List for Bhubaneswar Office
| Date | Day |
| --- | --- |
| 1st January 2023 | New Year |
| 26th January 2023 | Republic Day |
| 8th March 2023 | Holi |
| 20th June 2023 | Rath Yatra |
| 15th August 2023 | Independence Day |
| 30th August 2023 | Raksha Bandhan |
| 19th September 2023 | Ganesh Chaturthi |
| 2nd October 2023 | Gandhi Jayanti |
| 24th October 2023 | Dussehra |
| 13th November 2023 | Diwali |
| 25th December 2023 | Christmas |
| Date | Occasion |
| --- | --- |
| 19 July 2023 | Muharram |
| 29 June 2023 | Bakri ID (Id-Uz-Zuha) |
| 21 Apr 2023 | Id Ul Fitre |
| 15 Jan 2023 | Makar Sankranti |
| 20 Sept 2023 | Nua-Khai |
| 18 Feb 2023 | Maha Shivratri |
| 7 Apr 2023 | Good Friday |
| 2 Oct 2023 | Gandhi Jayanti |
| 6 September 2023 | Janam Ashtami |
| Date | Occasion |
| --- | --- |
| 26 Jan 2023 | Saraswati Puja |
| 19 September 2023 | Ganesh Puja |
| 23 August 2023 | Foundation Day (Mumbai, Bhubaneshwar) |
Holiday List for Mumbai Office
| Date | Day |
| --- | --- |
| 1st January 2023 | New Year |
| 26th January 2023 | Republic Day |
| 8th March 2023 | Holi |
| | Gudi Padwa |
| 15th August 2023 | Independence Day |
| 30th August 2023 | Raksha Bandhan |
| 19th September 2023 | Ganesh Chaturthi |
| 2nd October 2023 | Gandhi Jayanti |
| 24th October 2023 | Dussehra |
| 13th November 2023 | Diwali |
| 25th December 2023 | Christmas |
| Date | Occasion |
| --- | --- |
| 19 July 2023 | Muharram |
| 29 June 2023 | Bakri ID (Id-Uz-Zuha) |
| 21 Apr 2023 | Id Ul Fitre |
| 15 Jan 2023 | Makar Sankranti |
| 20 Sept 2023 | Nua-Khai |
| 18 Feb 2023 | Maha Shivratri |
| 7 Apr 2023 | Good Friday |
| 2 Oct 2023 | Gandhi Jayanti |
| 6 September 2023 | Janam Ashtami |
| Date | Occasion |
| --- | --- |
| 26 Jan 2023 | Saraswati Puja |
| 19 September 2023 | Ganesh Puja |
| 23 August 2023 | Foundation Day (Mumbai, Bhubaneshwar) |